Angular
Development

Made Easier Your Frontend

Angular.js is an open-source front-end JavaScript framework to develop extensive web applications. AngularJS has the added advantage of converting static HTML texts into dynamic content. As a booster of HTML, AngularJS is used to build interactive and dynamic user interfaces for mobile applications and websites. AngularJS makes it easy to build real-time applications with two-way data binding.

iSyncEvolution has an experienced team of MEAN (MongoDB, Express.js, Angular.js, Node.js) stack developers who have been delivering scalable and functioning applications since 2018. Our expert frontend developers provide an end-to-end solution for aligning clients' business needs with the website's design that optimizes the website's performance and drive more customers. We have developed a wide range of technological solutions to help businesses achieve technology-enabled-business transformation.

Hire Angular.js developers in the USA, Australia, UK, Europe, and India. We create engaging and high-performance front-end and take advantage of the robustness, scalability, and security of Angular.js. As a well-known Angular.js Development Company, we think that our websites keep you ahead of the competition and help you achieve the desired results.

01
Professional
10-20 Days Website
Informative Website
Premium
20-40 Days Website
Online Shop / Booking / Ordering Website
02
03
Enterprise
40-60 Days Website
Business & Organization Requirement Website
MEAN Stack Development to Design and Develop Engaging Web Apps at iSyncEvolution
iSyncEvolution is a top MEAN stack development company that has proficiency in building bespoke web apps by leveraging the potential of the MEAN stack. To build top-notch a experience for the clients and end-users, we utilize our expertise in MEAN Stack development to develop scalable, robust, efficient, and intuitive CMS for clients
We make sure that through AngularJS Development Services, our extensive engineering and advanced design skills are reflected. When it comes to developing front-end and back-end libraries of JavaScript, iSyncEvolution is one of the most salutary MEAN development companies that will understand and believe in your vision.
What Is MEAN Stack?
MEAN Stack comprises all the leading JavaScript-based technologies like MongoDB, Express.js, Angular.js, and Node.js. AngularJS makes the designing process much easier and smoother. MongoDB is a NoSQL database; Express is a modular framework; React.js is a frontend framework; Node.js is the server-side framework.
These frameworks are the right fit for developing dynamic applications and websites. Frontend, backend, and database are all built on JavaScript- a single language that runs on every tier of the application.
MongoDB:
Open-source Database Program
Cross-platform
NoSQL Database
JSON-like Documents
Document-oriented
Express.JS:
Develop RESTful APIs and Dynamic Web Apps
Efficient Routing
Faster Server-side Development
Effective Middle Layer
Angular.JS:
Optimum Performance & High-speed
Cross-platform
Client-side Development
Node.JS:
Develop Scalable Web Apps
Enhanced Backend Services
Robust with NoSQL
Why Should You Choose MEAN Stack Development?
MEAN is a dynamic programming language for client and server-side web app development. iSyncEvolution strives to provide the best user experiences through MEAN stack development services. We can develop using the MEAN stack to enable a faster and more dynamic web development process.
MEAN stack uses a single language throughout the development i.e. for both client-side and server-side. Web development becomes neat because all the technologies are written in JavaScript.

MEAN stack provides an end-to-end development environment with a full-stack development environment

MEAN follows Model View Controller (MVC) architecture for easy development of workflows

It has a collection of dynamic user interfaces readily available with the library to execute code quickly

The deployment cost of any application developed by using the MEAN stack is cheaper as the components can run on any server

AngularJS and NodeJS use JSON and even MongoDB can easily be integrated with Node.js to manipulate, store and represent JSON data in web apps

HTTP responses and requests are encapsulated by Express.js to plan the URLs for server-side mapping

MEAN stack offers cloud compatibility as it uses modules, libraries, and functions from many public repositories which can prove to be very pocket-friendly.

MEAN makes it easy for JSON data to flow from front to back while making it faster to build and debug
Develop Enterprise-level Applications and Web with Angular.js Framework
iSyncEvolution strives to improve user experiences through MEAN stack development services. MEAN stack encapsulates a variety of technologies including databases, frameworks, and libraries for an easy application development process. AngularJS framework is the preferable choice among JavaScript developers to create enterprise-level applications. Being the comprehensive frontend framework, it has everything that is required to build large and scalable applications without any addition of other dependencies.
We offer the following services as a part of AngularJS Development Services:
UI/UX Architecture and Design

UI/UX Architecture and Design is crucial in developing sustainable and adaptive applications. It helps deliver a rich user interface with improved code quality.

Mobile Application Development

Our daily life revolves around various mobile applications assisting us in running our daily errands. We render mobile applications by using the most popular and easy-to-use JavaScript library to develop seamless and aesthetically alluring user interfaces.

Product Development

Our highly skilled team of AngularJS developers will help you build your product from scratch and upgrade your existing application. If you wish to enhance your product, our top-notch AngularJS developers will assist you.

Custom React.JS Development

To achieve unbelievable milestones, it is necessary to customize a service or a product according to the end user's point of view. We have a focused team of AngularJS developers to build customized AngularJS applications that will always be a step ahead of the ongoing trends.

Progressive Web Apps(PWA) Development

PWA is the recent trend in the current web application development. PWA is known for many advantages like responsiveness, safety, feel-of-an-app, and discoverability. PWAs utilize new technologies to enhance the user experience yet can work fine in older browsers.
Why Choose Us for AngularJS development Services?
As a premier AngularJS development company, iSyncEvolution's goal is to augment web applications with Model-View-Controller (MVC) capability.
Experienced Developers

Our experienced team of IT professionals follows a systematic development process to build any project. They can deliver business value by spending less time on internal processes and more time on developing the feature-enhanced product.

Round-the-clock Support

Providing round-the-clock support is of paramount importance to ISyncEvolution. You can contact us anytime for your project-related queries.

Fair Pricing

Even though we are a top-level development company, we have a moderate pricing model. We have a fair pricing approach and do not exploit our market power.

Customer Satisfaction

We believe customer satisfaction is of utmost importance to us. Due to this, we have 98% client retention.

Exceptional Performance

Our experienced team ensures excellent performances by creating dynamic applications and websites with high-end results.
iSyncEvolution's Working Process While Using Angularjs Development
Our AngularJS Developers team builds customized web and mobile applications for enterprises. Our agile development process transforms your dream project into a beguiling reality. Our working process is as follows:
Gather Project Requirements
Analyze Project Functionalities and Advancements
Pick a Price Model
Create a Contract
Commence the Project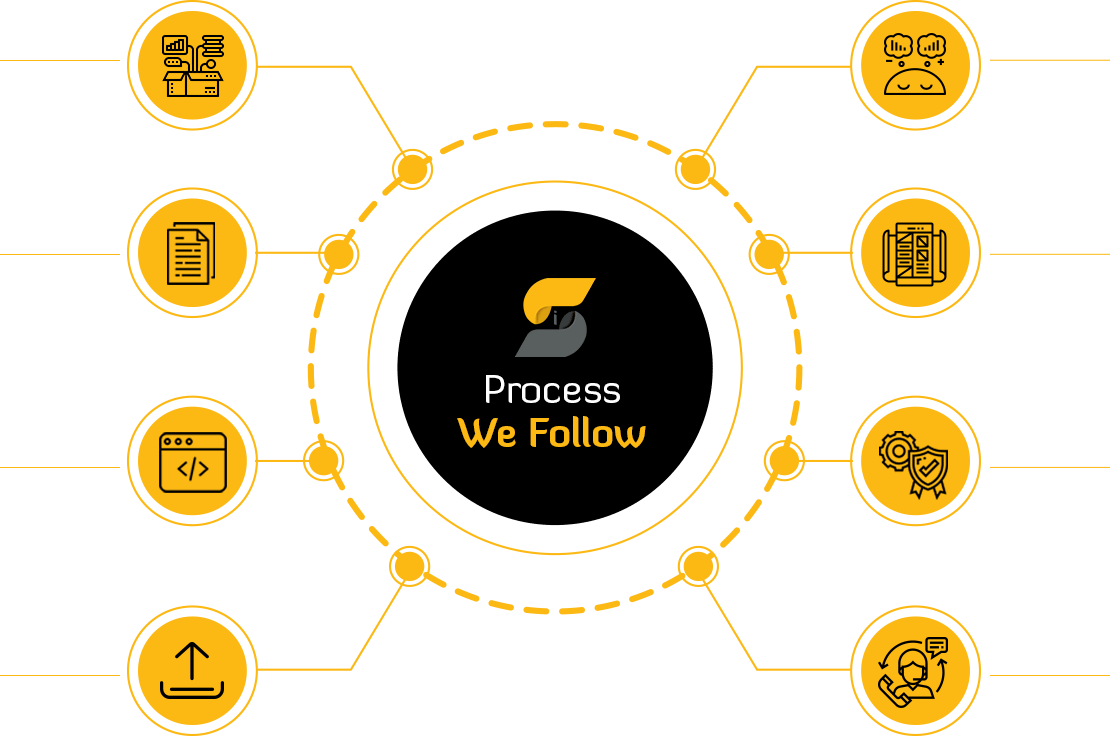 We Have
Experience In
Angular Theme Development

Angular Development

Angular Website Optimization

Angular Component Development

Migrate to Angular Website
Realtime Data Web Page

Angular Plugin Development

Angular Maintenance Work

Angular Custom Development

Hire Angular Developer
Advantages of
AngularJS Development Services from iSyncEvolution
Standard Website Document
Task Analysis
Regular Work Update
Property Maintenance Support
Professional Skilled Developer
Fluent Communication
Coding Structure & Standard
Unit Testing
Timely Delivery
Low Cost
Easy Support Plan
Information Security
Fix Cost Model
Hire Model
100% Source Code Delivery
NDA policy
Quality Output within
Time & Budget

with 100%

Client Satisfaction

375+
+
Portfolio Projects
20+
+
Years Of Experiences