Angular
Website

Development

We specialize in Angular development, providing cutting-edge solutions for web application development. Angular is a powerful framework that allows for the creation of dynamic and responsive websites. With its robust features and flexibility, Angular enables us to build scalable and high-performance web applications.

At iSyncEvolution, we are a reputable Angular development company offering top-notch services. Our team of skilled developers excels in Angular website development, delivering exceptional results. As an expert Angular development company, we specialize in creating dynamic and responsive websites using the Angular framework. Whether you need a new website or want to revamp your existing web application. Trust our experienced Angular developers to bring your vision to life.

With a global presence, iSyncEvolution operates in multiple locations, including the USA, India, the UK, and Australia. Our distributed team of Angular developers ensures that we can cater to clients worldwide, delivering high-quality Angular website development services. Regardless of your geographical location, you can benefit from our expertise and collaborate seamlessly with our skilled professionals.

01
Professional
10-20 Days Website
Informative Website
Premium
20-40 Days Website
Online Shop / Booking / Ordering Website
02
03
Enterprise
40-60 Days Website
Business & Organization Requirement Website
Angular Development Services
Angular Web Application Development: Our experienced Angular developers create robust web applications using the latest Angular framework, ensuring seamless performance, interactive user interfaces, and optimal scalability.

Custom Angular Solutions: We provide tailored Angular solutions that address your unique business requirements. Our developers leverage Angular's flexibility to build custom features and functionalities, empowering your web application to stand out from the competition.

Angular UI/UX Development: Our design experts combine their proficiency in Angular with UI/UX best practices to craft visually appealing and user-friendly interfaces. We focus on delivering an intuitive user experience that enhances engagement and drives conversions.

Angular Migration Services: If you're looking to migrate your existing web application to Angular, our team can seamlessly handle the transition. We ensure a smooth migration process, minimizing disruptions and maximizing the benefits of Angular's advanced capabilities.

Angular Testing and QA: Quality is our priority. We conduct thorough testing and quality assurance procedures to identify and resolve any issues in your Angular web application. Our meticulous approach ensures a flawless user experience and optimal performance.

Angular Support and Maintenance: We provide ongoing support and maintenance services to ensure that your Angular web application remains up-to-date and fully functional. Our team is available to address any queries or concerns and provide timely assistance whenever needed.
Work with the Best Angular Developers
At iSyncEvolution, we take pride in our team of highly skilled and dedicated Angular developers. Our professionals have in-depth knowledge of Angular and stay updated with the latest trends and technologies. They possess a proven track record of successfully delivering Angular projects, demonstrating their expertise and commitment to excellence.
We understand the significance of effective communication and collaboration. Our developers work closely with clients, ensuring that they understand your business objectives and deliver solutions that align with your vision. With our experienced Angular developers, you can expect superior quality, timely delivery, and unparalleled customer satisfaction.
Our Development Process
Requirements Gathering: We start by thoroughly understanding your project requirements, goals, and target audience to ensure we deliver the desired outcome.

Design and Planning: Our team creates a detailed design and development plan, considering UI/UX aspects, functionality requirements, and project timelines.

Development and Testing: Our skilled Angular developers bring your vision to life, ensuring robust coding standards and conducting rigorous testing at each development stage.

Client Collaboration: We maintain open lines of communication throughout the project, providing regular updates, seeking feedback, and incorporating any necessary revisions.

Deployment and Support: Once development is complete, we deploy the application to the desired hosting environment and conduct thorough testing to ensure a smooth transition. We also provide ongoing support and maintenance to address any issues and ensure your Angular website remains secure and up-to-date.
Why Choose Us:
Expertise and Experience: Our team of Angular developers has extensive expertise and experience in building high-quality web applications. We stay up-to-date with the latest industry trends and best practices to deliver cutting-edge solutions.

Customized Solutions: We understand that every business is unique. We tailor our Angular development services to meet your specific requirements, ensuring that your web application aligns perfectly with your brand identity and business goals.

Collaborative Approach: We believe in collaboration and effective communication. Our team works closely with you, involving you in the development process, and seeking your input at every stage. We value your ideas and insights to create a web application that exceeds your expectations.

Quality Assurance: We have a strong commitment to quality. Our rigorous testing processes ensure that your Angular website is thoroughly checked for functionality, performance, and security, delivering a seamless user experience.

Timely Delivery: We understand the importance of meeting deadlines. Our team follows a well-defined development process, adhering to project timelines and delivering your Angular web application within the agreed-upon timeframe.

Client Satisfaction: We prioritize client satisfaction and strive to build long-term relationships. Our dedicated support team is available to address any queries or concerns even after the project is completed, ensuring your ongoing satisfaction.
As a leading Angular development company, iSyncEvolution is your trusted partner for all your Angular web development needs. With our extensive experience and a team of skilled Angular developers, we have established ourselves as a reliable provider of top-notch Angular solutions. We understand the importance of leveraging the full potential of Angular to create highly functional and visually appealing web applications. Our company is dedicated to delivering excellence, combining technical expertise, innovative design, and a customer-centric approach.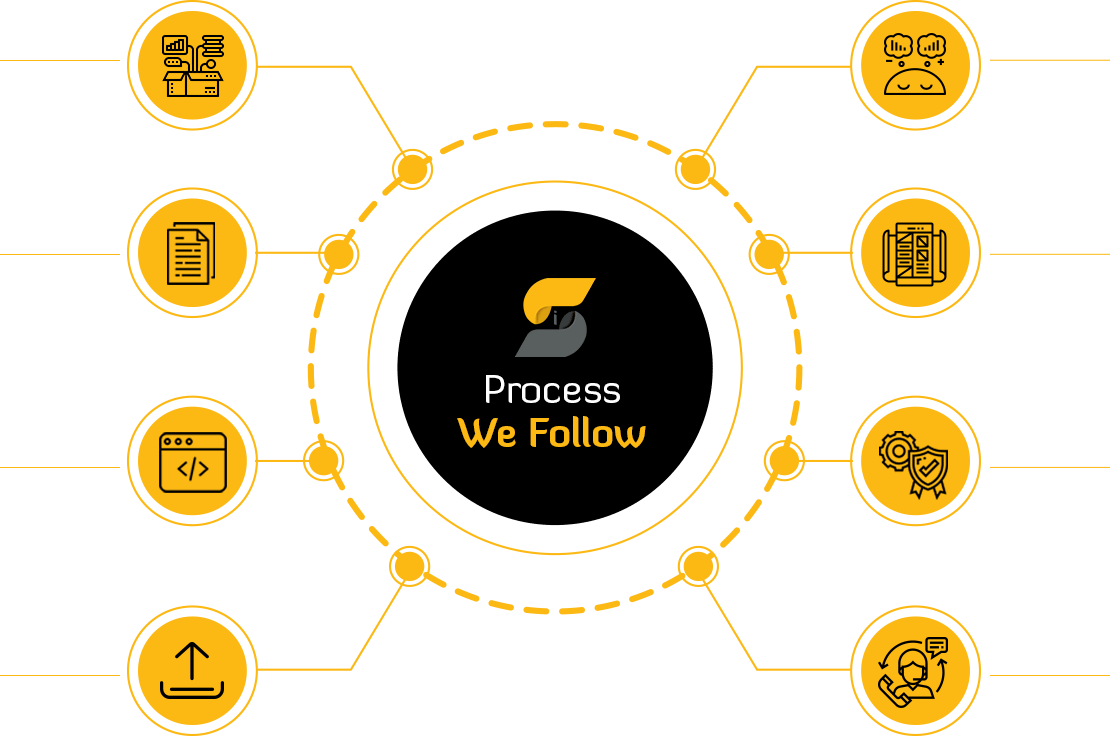 We Have
Experience In
Angular Theme Development

Angular Development

Angular Website Optimization

Angular Component Development

Migrate to Angular Website
Realtime Data Web Page

Angular Plugin Development

Angular Maintenance Work

Angular Custom Development

Hire Angular Developer
Advantages of
Angular Development Services from iSyncEvolution
Standard Website Document
Task Analysis
Regular Work Update
Property Maintenance Support
Professional Skilled Developer
Fluent Communication
Coding Structure & Standard
Unit Testing
Timely Delivery
Low Cost
Easy Support Plan
Information Security
Fix Cost Model
Hire Model
100% Source Code Delivery
NDA policy
Quality Output within
Time & Budget

with 100%

Client Satisfaction

375+
+
Portfolio Projects
20+
+
Years Of Experiences