Android and iOS Applications are the two major smartphone OS competitors that the majority of people use nowadays. They both have their advantages and disadvantages. Some people prefer customization, while others choose elegance. However, it should not matter to your business because both operating systems have a fair share of audience and you should establish a strong presence in both.
In terms of convenience and ease of use, the world of mobile apps development is rapidly evolving. Taking advantage of these development trends might assist you in gaining maximum traction for your store. You can also be your users' mobile-only or mobile-first shop or market. As a result, you require a strong application that can give all services to your customers at their fingertips.
This is where mobile application development comes into the picture. But if you're having trouble deciding whether to start with Android or iOS apps development as your first step toward digital transformation, stick with us and we'll help you figure it out.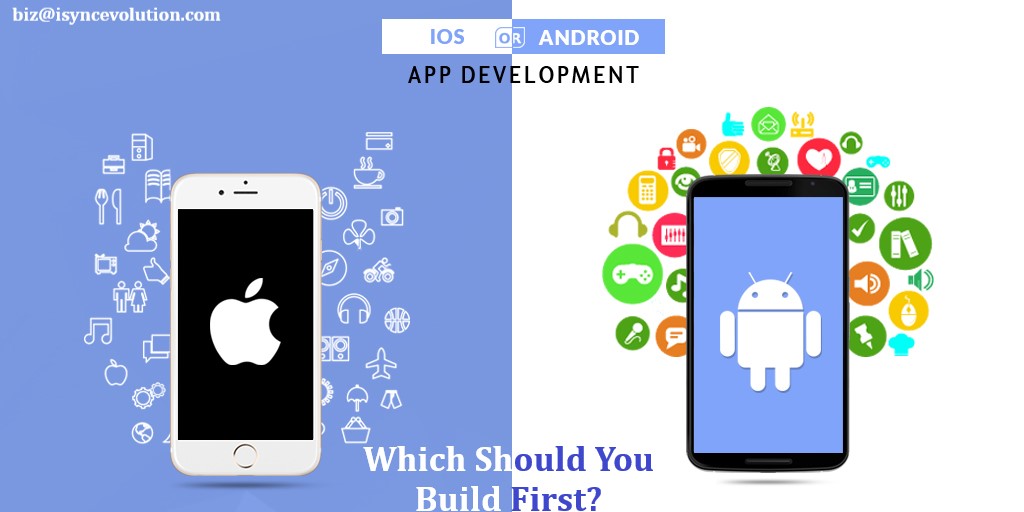 Android and iOS Apps: Which one should you choose?
Before picking which platform to use first, you should evaluate several things such as revenue, audience, and requirements. You can select the platform you need to market your business based on these considerations. Because they have reached the correct audience, e-commerce enterprises are performing well on both the Android and iOS Apps developmentplatforms. As a result, make certain that you are well connected with your target audience.
Whatever we've told you, we'd recommend you to keep your presence in your places in both Android and iOS app development.
iOS users can bring you revenue, whereas Android users can bring you popularity. iOS users can help you grow more quickly, while Android users can help you spread the word. There is so much to smartphone app usage that you can get a lot done in a short period of time.
1. Android apps vs iOS apps Development
Android app development has a larger market share because it focuses on the public, regardless of class.
However, despite the fact that iOS app development has a smaller market share, the people who download these apps work for premium brands or believe in supplying a premium customer base. Before selecting a choice, think about the following aspects.
2. Location
Mobile operating systems such as iOS and Android have a huge user base that is distributed rather equally around the world. The only difference is that you should be able to reach the appropriate audience using these operating systems.
For example, Apple targets premium customers, while Android offers to a wide range of people regardless of their financial status. Simply put, both Android and iOS apps Development can help you expand at the right pace, but you should be aware that their target audiences are different.
As a result, it is preferable to begin with one of the operating systems, ideally Android, because it has a faster development cycle and a larger audience reach.
3. Revenue
iOS apps are paid, and the majority of them include in-app purchases. Regardless of the scenario, iOS users are more likely to download an app than Android users.
The majority of Android applications rely on ads-support. As a result, removing the ad support reduces the app's chances of survival. Ads are a wonderful method to monetize your apps but don't go overboard. Users may become dissatisfied with a large number of apps, and you may lose your customer base, resulting in revenue losses.
4. Cost
When considering hiring mobile apps development services, the cost is an important consideration. At first glance, the cost is determined by the number of features you provide, but there is a catch.
iOS app development is unique to iOS mobile, and because the software or hardware does not vary significantly, a single code works for practically all devices. But Android apps development needs to optimize its apps for almost every other device, and therefore, Android apps become more expensive than iOS apps.
Why choose iSyncEvolution for Android and iOS Apps Development
Being a well-known iOS and Android application development services company in India, USA, UK, and Europe iSyncEvolution is recognized for serving modern business needs and delivering the best-in-class solutions at a competitive cost across the globe.
Here's why we can be the best choice when it comes to building iOS and Android applications:
We give better Customer Satisfaction
We have Dedicated Teams of android app developers.
we offer flexibility to our clients to select from different engagement and hire models.
We respect your ideas and vision, provide you every small project detail regular basis
READ MORE – 6 Key Advantages of Laravel Framework for Website Development
At iSyncEvolution, as the best iOS and Android application development company in India, USA, UK, and Europe you'll find end-to-end Mobile application development Services that present your highly functional feature-packed apps. Our team of experienced iOS and Android app development is highly expert with syntax and integrates unique features for your iOS and Android applications and e-commerce applications of high-class quality and efficiency on the backend and frontend.