PHP web development is considered to be one of the most popular and preferred web development services. PHP is very easy to use, and it also saves time and it is free to use. There are a total of 18 different frameworks in PHP with different features. So which one is the best PHP framework out of them all? Let us briefly look at some of them PHP Based Frameworks.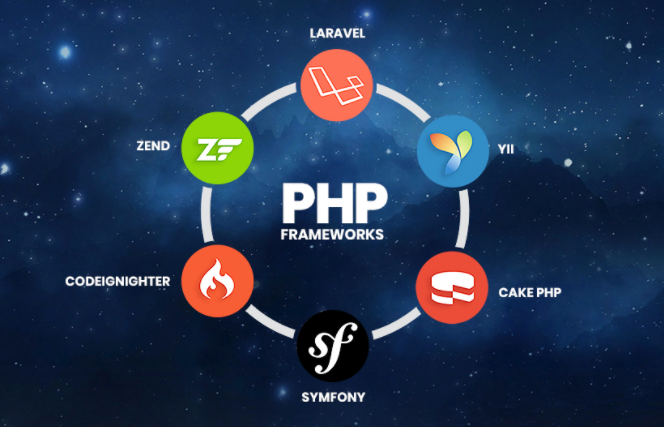 Currently, Yii Framework is the best PHP framework in the market. It is significantly faster than Codeigniter and Zend framework and includes some features of Symfony such as filter design and plug-in architecture. Its other amazing features include simple error handling and logging and many more. It also supports cross-platform web development. So you can easily use code from Peer or Zend Framework. With Yii development, you don't need to worry about input validation, SQL injection, and other routine security tasks, as these are done all by yourself.
Zend Framework is considered the most preferred PHP framework for businesses around the world. It includes various tools to make the development process simple and easy. It also provides a very properly integrated development environment that helps you take full advantage of all of its services. This framework is fast, scalable, secure, and reliable. It allows the development of Web 2.0 applications and web services.
CakePHP Framework is easy to learn and it provides a basic organizational structure. This keeps the entire application concurrent and logical. It can manage every aspect from the initial user request to the final rendering of the web page. Being an MVC-based framework, it allows the user to easily extend and customize most aspects of the web application.
This framework is easy to learn. It includes a rich set of libraries that allow rapid development. Furthermore, it has a simple interface and logical structure that allows access to these libraries. The amount of code required in this is very less as compared to others. It is widely used by freelancers, small teams as well as large companies.
Symfony Framework comes with a highly convenient debugging toolbar that helps it build better applications. This framework is very light and requires only two writing folders, which can be easily configured to the established level of security that the user requires for the app.
For fresher's, it has separate web application business rules, server logic, and presentation views. It has many tools and classes which help in reducing the development time of web application. It has been extensively tested in many real-world projects. It works with most databases such as MySQL, PostgreSQL, Oracle, and Microsoft SQL Server. It runs on UNIX and Windows operating systems.
So all these were one of the most popular PHP frameworks. Many other PHP frameworks are also available in the market. In the end, the choice is yours to make. You can choose any one of them which is most suitable and beneficial for your project requirements.
Read More – The Best PHP Website Development and Maintenance Services Company
Wrapping Up
If you want to create an innovative and feature-rich website for your business, then definitely need reliable web development technology. And PHP Framework is the best technology to accomplish your task. So, if you want to take advantage of the benefits of these frameworks, contact iSyncEvolution, a PHP development company in India, or hire a PHP developer for rapid web development services. They will suggest that you choose the best one as per your needs.